Ialyssos - Rhodes (Greece)
Ialyssos. Ialyssos is the name of a town on the west coast of the Greek island of Rhodes, which lies at a distance of 6 kilometers (4 mi) southwest of Rhodes town. Ialyssos is also called Ixia and Trianda. The tourist villages of Trianda and Ixia in the municipality of Ialyssos are close together and that is why they are often spoken of simultaneously.
Ialyssos is a popular vacation area. The whole area is ideal for windsurfing thanks to the ever-present sea breeze. There are also several surf schools.
Ialyssos is one of the three oldest city-states on Rhodes, along with Lindos and Kamiros. Ancient Ialyssos was located strategically on top of a fortified hill (the Filerimos hill) about 10 kilometers (6 mi) away from current Rhodes town. Ialyssos was inhabited in prehistoric times. The remains of a Minoan settlement have been found and Mycenaean (1700-1400 BC) cemeteries on the surrounding hills. Remains from the Archaic and Byzantine periods and of the age of chivalry have been found at the site of the ancient city. The Temple of Athena Polias, which was built in the second and third centuries BC stood atop the spot where once stood an even older classical temple. In the 15th century a medieval monastery (Panagia Filerimos) and church were built on this site. Antique Ialyssos was completely destroyed by marauding Turks during the period of Ottoman occupation.
In the 20th century, Rhodes came under the rule of the Fascist Italian government. The Italians converted the monastery into a church with four chapels. One of them was for the Orthodox Christians, one for Catholics, one for the Knights and one for relics. The Italians also built a huge cross.
Photo Gallery Ialyssos - Photos of Ialyssos
Weather forecast Ialyssos (Rhodes)
Saturday

22°C
Sunday

21°C
Monday

22°C
Tuesday

20°C
Wednesday

19°C
Thursday

19°C
Average temperature Ialyssos
Ialyssos in other languages


Rhodes: Where on the map is Ialyssos located?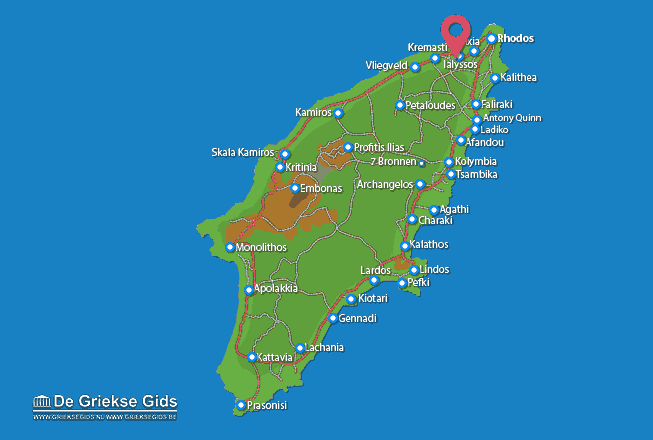 The map of Rhodes (©GreeceGuide.co.uk)