Samos - North-Eastern Aegean Islands (Greece)
SAMOS. Samos is a lush mountainous island, with grape vines, olive and pine trees. It lies in the eastern part of the Aegean Sea between Chios and the Dodecanese islands. It is located very closely to Asia Minor, the narrowest stretch of sea between Samos and Turkey where it is less than one kilometre wide.
Samos is a popular tourist destination because it has everything to offer. Whether you like a busy nightlife or a peaceful and relaxing holiday, you will love it here. Hikers can entertain themselves immensely, because there are various hiking routes throughout the plains and mountains on the island.
Besides the lovely rich green nature, the island has beautiful sandy and pebble beaches, charming traditional villages, a rich history and culture, very interesting sites, magnificent hills and mountains, green valleys, fascinating caves and very friendly people. Samos is also famous for its sweet wine production, the world-famous Samos wine.
Samos is the island of Pythagoras, its capital is the eponymous town of Samos, which is also called Vathy. Samos Town is a vibrant town with a nice port. The town is partly in a valley and partly amphitheatrically built on the slopes of the surrounding mountains.
West of Samos are the beautiful resorts Kokkari and Agios Konstantinos. Kokkari is one of the most popular resorts of Samos, it has a very good tourist infrastructure, amazing beaches and it is surrounded by the beautiful green landscapes. The same applies more or less for Agios Konstantinos which actually consists of two villages, the mountain village and the coastal village. South of Agios Konstantinos are the picturesque mountain villages Manolates, Vourliotes and Stavrinides, tucked away in the lush countryside.
Photo Gallery Samos - Photos of North-Eastern Aegean Islands
Samos Holidays
---
Fito Aqua Bleu Resort


****


Family Life Doryssa Seaside Resort


*****

The area around Pythagorion is one of the most visited tourist areas of Samos and it is claimed that Pythagorion is built atop of the Ancient Samos city. At Ireon, which is a little further, are the main archaeological ruins of the island.
The highest mountain of Samos is Kerkis (also called Kerketea). Kerkis is also the highest mountain of all the Aegean islands. Close by is the village of Marathokampos where you can enjoy both mountain landscapes and beaches. In this area there are all kinds of traditional villages but also beautiful beaches like the beaches of Votsalakia, Kambos, Limnionas and Psili Ammos. The second largest town of Samos is Karlovassi. Here you can visit the old part of the town but also the area where many shops and cafes are. After Samos town, Karlovassi is another great shopping town .
Video's about Samos Island
Drone video Samos Island - ©Greeceguide.co.uk
Saturday

32°C
Sunday

33°C
Monday

33°C
Tuesday

33°C
Wednesday

32°C
Thursday

32°C
Average temperature Samos
Sights, tips and other information Samos
Samos town is the capital of the island and is also called Vathy by locals. It is a...
More about Samos ...
Agios Konstaninos is a village consisting of two parts, the pano-Chorio (hill) and the ...
More about Agios Konstantinos ...
Ireon. The seaside village Ireon is located southwest of Samos and this village is the largest archaeological site ....
More about Ireon »
Kokkari is located northwest of Samos town and the famous resort of Samos. It lies partly in beautiful ...
More about Kokkari ...
Votsalakia. In the area around the village are the resorts Marathokampos Votsalakia and Kambos ...
More about Votsalakia-Kambos ...
Vourliotes and Manolates are two picturesque mountain villages north of Mount Ambelos ...
Get more Vourliotes and Manolates »
Pythagorion is one of the main tourist resorts on the island. This cosy town is ...
More about Pythagorion ...
Karlovassi is the second largest city of Samos. It is also called Karlovasia because it ...
More about Karlovassi ...
Text: Yorgos and Wendy Nikolidakis - Text edited by Maxine van Hoften
Photos Samos - Samos pictures
Samos in other languages


Samos: Where on the map is Samos located?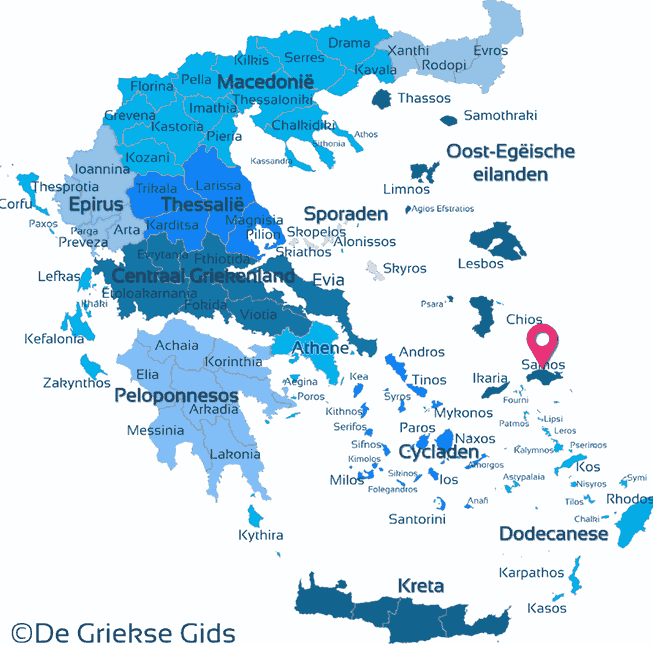 The map of Samos - ©GreeceGuide.co.uk