Kefalonia - Ionian Islands (Greece)
Cephalonia (Kefalonia). Cephalonia is one of the Greek islands which in recent years, became extremely popular among holiday goers. We visited Cephalonia and found it a great island! Cephalonia is the largest of the Ionian Islands and covers an area of 782 sq. kilometres. The coastline has a length of 254 kilometres. Cephalonia is a wonderful island to visit, all you need to have a successful holiday, you 'll find it here: beautiful beaches, magnificent mountains, charming traditional villages, beautiful cities, unique natural phenomena, good food, a rich history. Cephalonia is full of it!
Argostoli is the port and capital of Cephalonia, in the centre of the town are lots of cozy restaurants, cafes, pubs and bars. There is delicious food and in the evening it is nice strolling along the boulevard.
A very popular seaside resort is Fiskardo, all in the north, in the middle of a beautiful nature and where you have a wonderful view from the lighthouse over the sea. Sami is another popular place, which is best known for shooting the movie Captain Correlis Mandolin. Near Sami is the beautiful sandy beach of Antisamos, the Agrilia Monastery, the Drogarati cave and Melissani cave. From Sami you can boat to the island of Ithaca, several times a day boats sail to the island of "Odysseus".
The village of Assos is maybe the most beautiful village of the island, it is built amphitheatrically on the homonymous peninsula. South of Assos lies Myrtos, one of the most famous beaches of Greece, also called the paradise of Cephalonia. It is a stunning white pebbled beach with a deep blue sea at the foot of a steep green hillside.
On the peninsula of Paliki is Lixouri located, the second largest town of Cephalonia. On the southern coast of Paliki, there is Xi-beach, a long beach with fine red sand. Other nice places are Poros, Skala, Lassi, Agia Efimia and many more.

Cephalonia is really fantastic! Enjoy our Cephalonia pages!
Photo Gallery Kefalonia - Photos of Ionian Islands
Video Cephalonia (Kefalonia)
Film Kefalonia island - © GreeceGuide.co.uk
Beaches Cephalonia
Cephalonia is an extremely beautiful island. There are beautiful beaches in abundance, with small white pebbles and clear blue seas. Some of the finest beaches are: Makris Gialos (blue flag) in Lassi, Platis Gialos in Lassi, Tourkopodaro, Avithos (in Svoronata) Lourdata, Agios Thomas, Trapezaki, Katelios, Mounda, Radzakli, Skala (blue flag), Poros (blue flag), Andisamos, Agia Paraskevi, Agia Efimia (Ag. Euphemia), Myrtos, Agia Kyriaki, Assos, Fiskardo, xi beach (with red sand, blue flag), Megas Lakkos, Agios Ioannis Langadakia and Petani, which is one of the most beautiful beaches on the island.
Weather forecast Kefalonia
Thursday

25°C
Friday

25°C
Saturday

29°C
Sunday

29°C
Monday

29°C
Tuesday

28°C
Average temperature Kefalonia
Sights, tips and other information Cephalonia
Agia Efimia is a small tourist and fishing village 31 km northeast of the capital of Cephalonia ....
More about Agia Efimia ...
Fiskardo is a cozy harbor village in the north of the island. In this picturesque fishing village there are ...
More about Fiskardo ...
Poros is a beautiful coastal town, where mountain and sea come together. Here you will find many bars ...
More about Poros ...
Argostoli is the lively capital of the Greek island of Cephalonia. It is a lively city with fun ....
More about Argostoli ...
Lassi is a pleasant seaside resort on the island of Cephalonia and is located approximately three kilometers from ....
More about Lassi ...
Sami is famous for its natural beauty, underground rivers and the archaeological ...
More about Sami ...
Xi-beach is one of the most famous beaches in Cephalonia, it is a long beach of fine red sand ...
More about Xi Beach ...
Assos is one of the most traditional and most beautiful villages of the island. It is built between two bays ...
More about Assos ...
Lixouri is the second largest city of the island and the main town of the peninsula of Paliki ...
More about Lixouri ...
Skala is located in a beautiful green area where the most beautiful beaches of Cephalonia are located ...
More about Skala ...
Photos Kefalonia - Kefalonia pictures
How to get on Cephalonia (Kefalonia)?
First of all, there is the international airport where you can arrive as tourist.
But Cephalonia is also connected by ferry with several ports like the port of Kyllini (Peloponnese near Patras), Patras (Peloponnese), Ithaca,
Kefalonia in other languages


Kefalonia: Where on the map is Kefalonia located?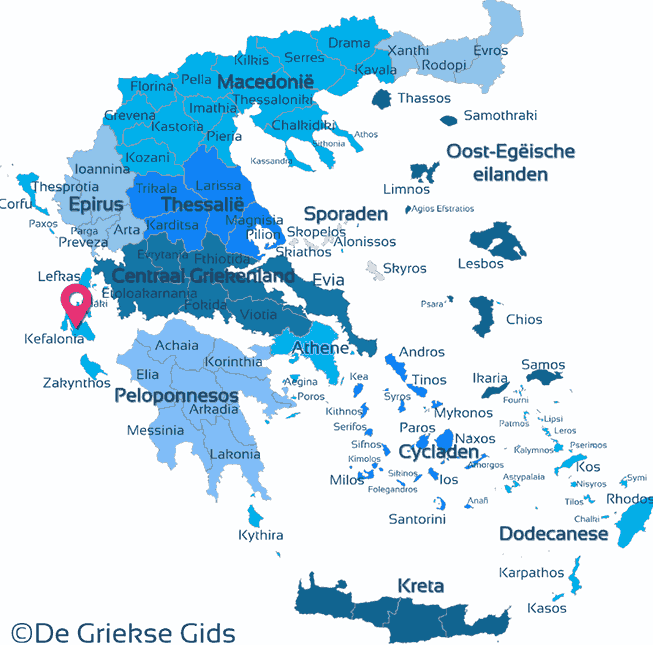 The map of Kefalonia - ©GreeceGuide.co.uk