Symi - Dodecanese (Greece)
Symi is a small Greek island, 12 kilometers (about 7.5 miles) from Rhodes. Symi is one of the most picturesque islands in Greece. The town of Symi is located in the north of the island and is divided into two parts: Ano Symi (upper part, also called the village) and Gialos (the town at the harbor).
Gialos is very cozy with lots of nice restaurants, taverns, cafes and shops. In the interior of Symi are several valleys and rocky slopes. The shoreline is often quite steep.
In ancient times, the island of Symi was named Symi Aegli. The current name refers to the nymph Symi, a wife of the god Poseidon. According to the writings of Homer, three ships from Symi participated in the Trojan War.
In the period after 1373 AD, the island was very prosperous under the control of the Knights of St. John who occupied the island.
At the beginning of the last century, the island thrived thanks to the shipping and shipbuilding industries. This explains why the island is rather bare and dry - most trees were cut down for shipbuilding.
At that time, the island had population of 30,000, today less than 4000 people reside here permanently. Symi was very prosperous. Proof of that prosperity are the many colorful neoclassical houses that remain standing. These houses have remarkable soft pastel colors and have been restored. Inside, the houses are often decorated with carvings.
Photo Gallery Symi - Photos of Dodecanese
Aerial video Symi
Drone video Symi - ©GreeceGuide.co.uk
Sights on Symi
Knights of the Castle of Symi at the top of the city.
Maritime museum of Gialos.
The archaeological and ethnological museum in Ano (upper) Symi.
St. Mary's church on the top of the mountain (with a nice view to the harbor).
The fishing village of Pedi, two kilometers (little more than 1 mi) east of Ano Symi. In Pedi there is a beautiful sandy beach.
Emborios or Nimborio west of the capital. This is the second port of Symi and a pleasant place for a stroll. Twelve caves with mosaic work ate located here.
The sandy beach of Panormitis 12 kilometers (7.5 mi) from the capital. The monastery of Michail Panormitis is located here.
The temple Panormiou Poseidona.
Saturday

29°C
Sunday

28°C
Monday

27°C
Tuesday

27°C
Wednesday

27°C
Thursday

28°C
Events that are celebrated on Symi:
- On June 24, the feast of Aghios Ioannis.
- On July 27, the feast of Aghios Panteleimon.
- On August 14, the feast in the village Mirtariotissa.
- On August 15, the feast in the village Alethini.
- On August 23, the feast the Holy Mother.
How to get to Symi
Symi is connected by ferry with the ports of Piraeus (Athens), Kalymnos, Kos, Leros, Lipsi, Nisyros, Patmos, Rhodes and Tilos.
Text: Yorgos and Wendy Nikolidakis - Text edited by Katrina Butzer
Photos Symi - Symi pictures
Symi in other languages


Symi: Where on the map is Symi located?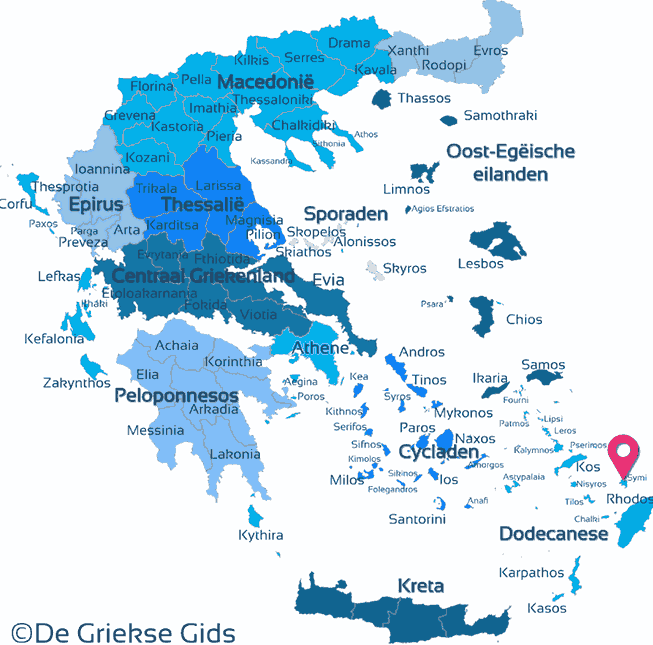 The map of Symi - ©GreeceGuide.co.uk