Ionian Islands - Greek Islands (Greece)
The Ionian Islands are also called 'Eptanissa' (Heptanese), which literally means "the Seven Islands". This group of islands stretches along the west coast of Greece in the Ionian Sea. The seven islands from north to south are Corfu, Paxos, Lefkada, Cephalonia, Ithaca, Zakynthos and Kythira.

Actually the islands are more than seven as there are many smaller islands. The seven principal islands are the busiest and most touristy. Most of the Ionian Islands lie between Greece and Italy, only Kythira (and Antikythira) are located southeast of the Peloponnese.

The characteristics of the Ionian islands are: a green and lush countryside, forested mountains, varied landscapes, wonderful beaches with clear blue sea and charming villages. The nature is very similar to that of the mainland across from Epirus and Central Greece. The characteristics of Kythira are little bit different, geographically as culturally, Kythira looks more like a Cycladic island.
Photo Gallery Ionian Islands - Photos of Ionian Islands

more photos of Ionian Islands»

The Seven Islands
Corfu (Kerkyra) is one of the most popular islands in Greece. It is a cosmopolitan island located at the northernmost part of the Ionian Sea. Read more about Corfu»

Paxos(Paxi) is located on the southeast of Corfu, only 8 miles from the coast op Epirus. on the western coastline are steep slopes and remarkable rock formations. Read more about Paxos»

Ithaca (Ithaki) is the smallest of the seven islands, it is located to the east of Cephalonia. Ithaca is known all around the world as the homeland of Odysseus (Ulysses). Read more about Ithaca»

Cephalonia (Kefalonia) is the largest of the Ionian Islands and is situated west of Central Greece. It is a green mountainous island that is blessed with endless pine forests. Read more about Cephalonia»

Lefkada (Lefkas) is an enchanting island, famous for its magnificent white sandy beaches. Lefkada lies less than hundred meters from the mainland coast of Central Greece. Read more about Lefkada»

Zakynthos is the the southernmost island of the Ioanian sea. it is located to the west of the Peloponnese. Very interesting to visit are the Blue Caves and the Shipwreck. Read more about Zakynthos»

Kythira (Cythera) is an island lying in the southeastern of the Pelopponnese peninsula. It is a mountainous island with many beaches and traditional villages. Read more about Kythira»

Weather forecast Ionian Islands
Friday

21°C
Saturday

22°C
Sunday

21°C
Monday

18°C
Tuesday

17°C
Wednesday

18°C
Average temperature Ionian Islands
Interactive Map Ionian Islands
The Ionian islands are Corfu, Paxi, Lefkada, Ithaca, Cephalonia and Zakynthos. Kythira is not on the map.

Click on the island

Text: Yorgos and Wendy Nikolidakis - Revised by Maxine van Hoften Gee
Photos Ionian Islands - Ionian Islands pictures
more photos of Ionian Islands»

Ionian Islands in other languages


Ionian Islands: Where on the map is Ionian Islands located?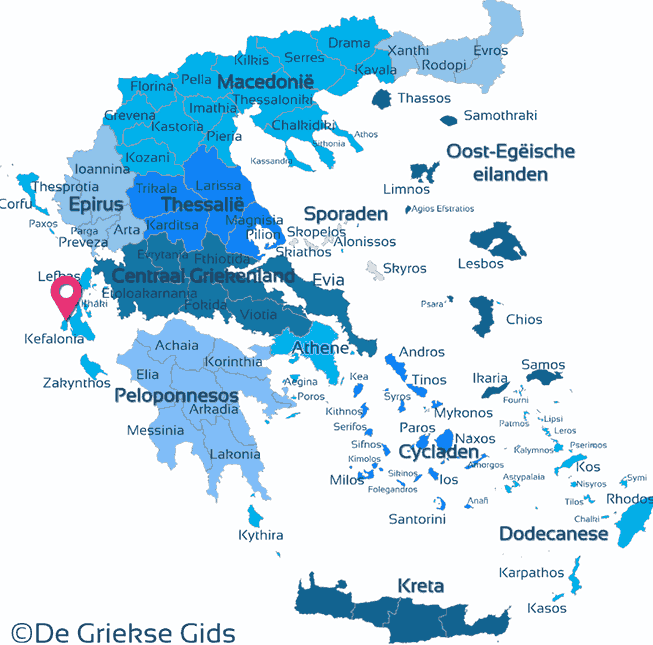 The map of Ionian Islands (©GreeceGuide.co.uk)