Ancient Agora - Attica (Greece)
The Athenian agora. The ancient Athenian Agora is located northwest of the Acropolis. In ancient Greece, the Agora (market) is a very important place, because from here the city was governed. The Theseion was located on the site of the Agora. The Theseion, which actually is the temple of Hephaestus, is one of the best preserved Greek temples of antiquity. A little further is the "Tholos", a circular building, which probably played a managerial role in the Athenian time. On the same property are also find the Stoa of Attalos, the Byzantine church of the Holy Apostles from the 11th century and statues of Giants and Titans.

The Stoa of Attalos
The Stoa of Attalos is a 116 meter long colonnade consisting of two floors. Probably was traded here. The king of Pergamon Attalos the 3rd (159-138 BC) would have donated this building to the Athenian population. The building is now a museum where excavated objects are on display.

The Temple of Hephaestus in the Theseion
This is the best preserved ancient temple in Greece. It is a Doric temple dedicated to the god Hephaestus, the blacksmith among the Gods. It is also dedicated to the Goddess Athena. Although we call this "Theseion" it was not dedicated to the Greek hero Theseus. The Temple of Hephaestus located on western side of the ancient Athenian Agora dates from the year 449 BC.
Photo Gallery Ancient Agora - Photos of Ancient Agora
Weather forecast Ancient Agora (Attica)
Wednesday

16°C
Thursday

19°C
Friday

20°C
Saturday

17°C
Sunday

19°C
Monday

19°C
Average temperature Ancient Agora
Ancient Agora in other languages


Attica: Where on the map is Ancient Agora located?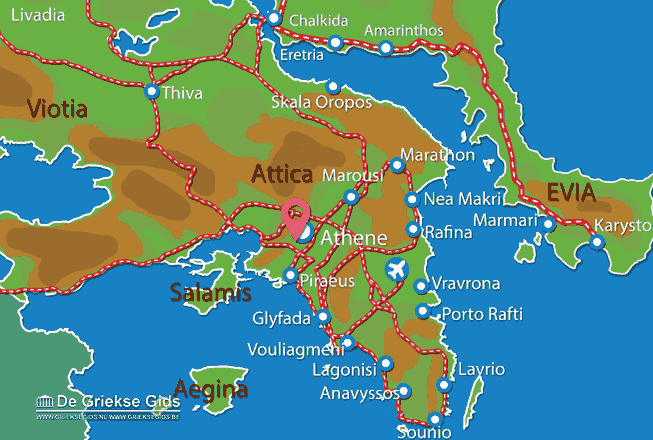 The map of Attica (©GreeceGuide.co.uk)