Soufli - Evros (Greece)
Soufli. Soufli is the city of silk, known beyond the borders of Greece for its handmade silk. According to historians the city was founded in the 16th century by refugees from the legendary village of Souli in Epirus who resisted fiercely against the Turkish rule. The town was one of the few centres in Greece where silk was produced. It is therefore not surprising that there are many mulberry trees in and around Soufli. The branches of these trees, the caterpillars were fed who then turned into a cocoon. These cocoons from the butterfly "Bambix mori mori" were then further processed. It was spun yarn, the famous silk, which was later made ​​into silk fabrics. This happened in the so-called "Koukoulospita", literally translated "coco houses". Today, almost no silk is being produced anymore, because the production process has become too expensive and people can no longer compete with manufacturers from the Far East. One may still end up in the sublime "Silk Museum" (μουσείο μεταξιού-moesio metaxioe ) where one gets a good view over the entire production process as well as the historical its evolution in this region.
In the town you will find many old mansions that attest of the economic prosperity which Soufli had in the 19th century and up to half of thelast century. Some old "koukoulospita" were renovated and converted into hostels or cultural centres, while there are also new attempts to revive the silk production in the city.

Other places of interest in the city are the churches of Agios Georgios, Agios Athanassios and the church of Prophet Elias. The folklore museum is a must. The Old Gymnasium (Gymnasio) and the 1st primary school are architecturally interesting and reflect the high social and economic development that Soufli knew. Nowadays Soufli is a quiet town with about 5.000 inhabitants less than a kilometre away from the Evros River, which separates Greece from Turkey. It is still the capital of the eponymous district. The people live mainly in the services and agriculture.
Photo Gallery Evros - Photos of Evros

Weather forecast Soufli (Evros)
Sunday

25°C
Monday

21°C
Tuesday

23°C
Wednesday

24°C
Thursday

26°C
Friday

27°C
Average temperature Soufli
Soufli in other languages


Evros: Where on the map is Soufli located?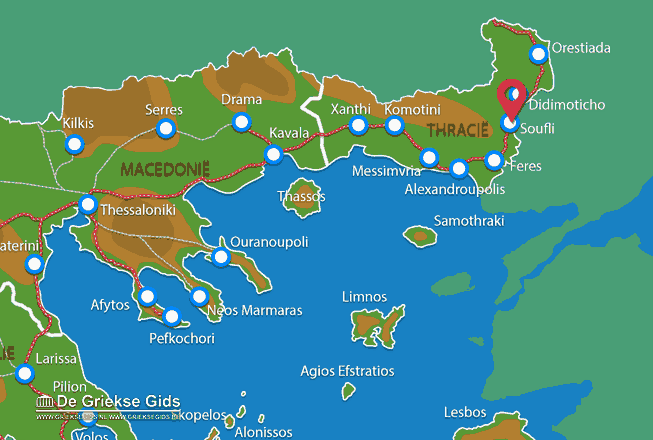 The map of Evros (©GreeceGuide.co.uk)