Leros - Dodecanese (Greece)
Leros. Leros, located between Patmos and Kalymnos, is an island with fertile valleys, green hills and spectacular beaches. There are olive groves, some of which are dramatically located on terraces on the mountain slopes.
The capital of Leros is Agia Marina, which is adjacent to the villages of Platanos and Panteli situated on the other side of the hill. Laki, which is located three kilometers (less than 2 miles) south of Agia Marina, is the main port of the island. This is one of the largest and best natural harbors in the Mediterranean. Alinda, Xerokambos and Partheni are pleasant coastal towns. You can swim at the beaches of Agia Marina, Panteli, Vromolithos, Alinda, Laki, Merikia and Xerokambos.
Leros is one of the smaller islands of the Dodecanese. It covers an area of 53 km2 (20 mi2), has a 71 km (44 mi) coastline and a population of 8,100. It is an island with many bays, beautiful natural harbors, sandy beaches and a good tourist infrastructure. There are archaeological sites, castles, mansions and Italian colonial architecture buildings.
Leros has been inhabited since the Neolithic period with a history similar to the other islands of the Dodecanese. During the Italian occupation Leros was of strategic importance. Scattered in the mountains lie the remains of two Byzantine fortresses. From the island, there is a magnificent view of the coastline indented with deep bays.
Photo Gallery Leros - Photos of Dodecanese
Aerial video Leros island
The island of Leros - ©GreeceGuide.co.uk
Sights and tips island Leros
Platanos, Agia Marina and Panteli are three connected settlements that together form the capital. Of these three places Platanos is the oldest.
The mansions Kandioglou and Antonellou.
The beautiful churches.
The well-preserved castle with traces of the ancient Greek era. It obtained its present form at the time of the Venetians. The Panagia Kera monastery is situated within the castle. Built in 1300 AD, it is decorated with beautiful icons and an old Greek Byzantine collection.
Fortress Broutzi - a Roman fortress in the harbor.
Remains of an early Christian basilica with mosaics, in Agia Marina.
The archaeological museum with artifacts from prehistoric times to the early Christian period.
The whitewashed port town of Laki is located on a scenic, sheltered cove.
Hidden in the bays there are a few small and quiet sandy beaches, especially in Xerokambos, Agia Marina, Aghios Stefanos, Panteli and Gournoi.
Activities on Leros: swimming, biking, hiking and diving.
The marina of Laki.
How to get to Leros
You can come to Leros by airplane and by ferry. However, the airport is very small; only domestic flights are operated.
Leros, the port of Laki, is connected with the ports of Piraeus (Athens), Agathonisi, Kalymnos, Kos, Lipsi, Patmos, Rhodes, Samos, Symi and Syros.
Saturday

29°C
Sunday

28°C
Monday

27°C
Tuesday

27°C
Wednesday

27°C
Thursday

28°C
Average temperature Leros
Photos Leros - Leros pictures
Leros in other languages


Leros: Where on the map is Leros located?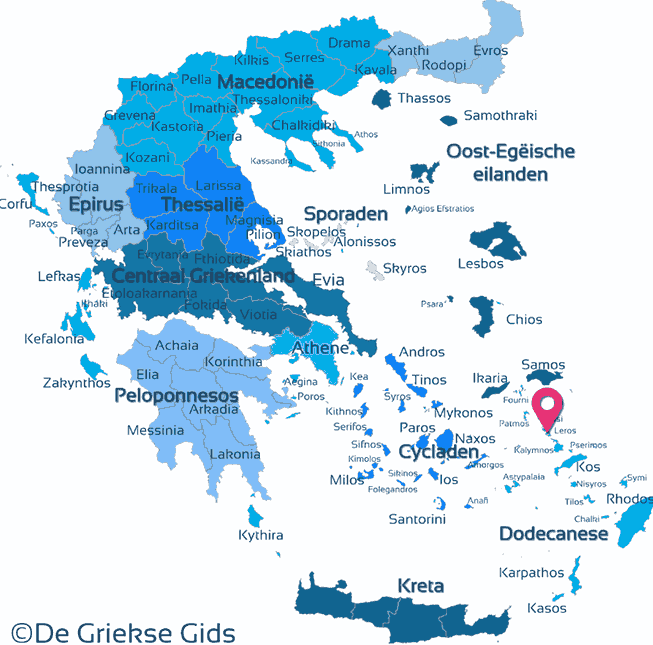 The map of Leros - ©GreeceGuide.co.uk