Kea - Cyclades (Greece)
Kea. Kea (Tzia) is a Greek island that belongs to the Cyclades group of islands and the closest island to Attica and Athens. It is a mountainous island with deep ravines, steep slopes, beautiful mountain plateaus, breath-taking valleys, picturesque bays and enchanting beaches. Since ancient times, Kea has been known for its almonds, honey and wine. The picturesque capital of Kea is Ioulida (Chora) and the best resorts of the island are Gialiskari, Korissia (also the port of the island), Vourkari, Koundouros, Otzias, Pisses and Spathi.
The island has a rich history. In ancient times it was called Hydroussa. It was a very important island in classical times, mainly due to its location near Athens and the other Cyclades. At that time there were four states on Kea: Ioulida (Ioulis), Karthaia, Piiessa and Korissia. When you visit these places today, you see ancient ruins – reminders of the past. Kea was a very crowded island and there were many roads and paths crisscrossing it. These old trails still exist and today walkers benefit from them. It is a paradise for hikers with 60 kilometers (37 mi) of mountain trails and walking paths. The trails are well marked and the afford hikers views of all kind of monuments and buildings that you couldn't see if you were traveling by car.
Kea occupies an area of 131 square kilometers (50 mi2). The capital of the island is the picturesque town of Ioulida, which is located in the heart of the island, and built on two different hills. The islanders call their capital Chora. From Chora you have an excellent view over the sea. Nearby you see the highest peak of the mountain Profitis Ilias (568 meters/1,900 feet).

There are no large villages on Kea. Its approximately 3,000 inhabitants live in small viallges. The largest of these are Ioulida, Korissia and Otzias. There are many bays with quiet beaches where, even in high season, you might be alone. Many of these beaches are accessible only by foot. Some of them can be reached with a jeep or by boat.
Photo Gallery Kea - Photos of Cyclades
Sights and tips Kea
Chora or Ioulis or Ioulida, the picturesque and traditional capital of Kea:
The castle, situated on the hill and built on the foundations of the ancient city.
The Lion of Kea, an archaic statue on a rock just outside the village.
Several monasteries.
The archaeological museum.
In Koundouras you will see remnants of the old city, walls and foundations of houses. One can also see stone windmills.

Visit the ruins of the ancient cities of Ioulis, Korissos, Kathraia and Piessa.

Visit the monasteries of Aghios Symeon and Panagia Kastriani.

Striking Kea
On Kea you will see many oak trees, a striking and unique phenomenon for a Cycladic island. Until the 60s the oak trees were an important source of income for the islanders, because the oak was exported.
Friday

20°C
Saturday

21°C
Sunday

21°C
Monday

19°C
Tuesday

16°C
Wednesday

17°C
How to get to Kea
There is no airport on Kea. The best way to visit Kea is to fly to Athens then take the boat from the port of Lavrio (near Athens airport).
There is also a regular connection to other Cyclades islands and other ports like Andros, Kythnos, Syros and Tinos.
Photos Kea - Kea pictures
Events held at Kea:
August 15th, a national holiday recognizing the Ascension of Mary, is marked by exuberant celebration.
The cultural event "Simodia" from August 1st to 15th.
Vourkari is a settlement from the Copper Age. On June 30th, the town hosts the Aghioi Anargiroi party, when (raw) meat donated to the pilgrims.

Beaches Kea
Kea has many beautiful beaches, both sandy and pebble beaches. They are located in Gialiskari, Otzias, Vourkari, Koundouras, Lygia, Kampi, Xila, Spathi, Kalidonichi, Sykamia, Psathi, Orkos and Karthaia.
Text: Yorgos and Wendy Nikolidakis - Text edited by Katrina Butzer
Kea in other languages


Kea: Where on the map is Kea located?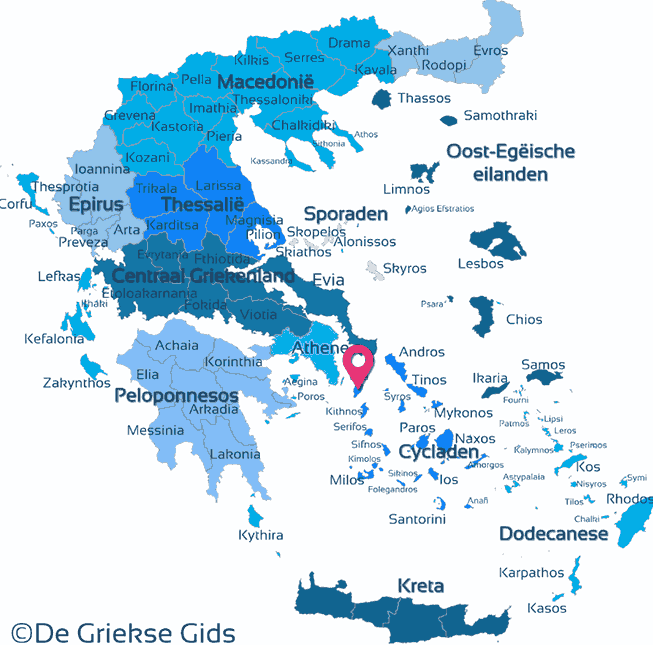 The map of Kea - ©GreeceGuide.co.uk