Preveza - Epirus (Greece)
Preveza. Preveza Prefecture is one of the four departments of Epirus. It is bordered to the north with the departments Epirotische Thesprotia and Ioannina, in the east with the prefecture of Arta. In the south is the Amvrakikos Gulf and to the west the Ionian Sea. The northern part of Preveza is mountainous, because here several foothills of mountain ranges in Thesprotia and Ioannina located. The highest mountains are the mountains of Parga (927 meters), the mountain of Paramithia (1082 meters), the mountain of Zalongo (772 meters), the Thesprotika mountain (1274 m) and in the northeast Xerovouni which is 1607 meters high. Preveza are also several fertile plains, such as the plains of Filipiada which is an extension of the plain of Arta, Preveza and the plain of the plain of Fanari. There are several rivers, the best known are Louros and Acherontas.The capital of the department is Preveza City which is close to the area of ancient Nikopolis. It was founded around 290 BC. and much later was occupied by the Venetians, the French and the Turks, before it became part of Greece. Today this picturesque port with the Venetian castle is a good base to explore the area. There are beautiful beaches like Kiani Akti, Alonaki, Agii Apostoli, Panickratoras, Kalamitsi, Mitikas and Monolithi. The archaeological museum of Nicopolis, 8 km north of Preveza is also well worth a visit. The main tourist town of Preveza Parga.
Photo Gallery Preveza - Photos of Epirus
Monday

26°C
Tuesday

24°C
Wednesday

24°C
Thursday

23°C
Friday

24°C
Saturday

26°C
Average temperature Preveza
Photos Preveza - Preveza pictures
Preveza in other languages


Preveza: Where on the map is Preveza located?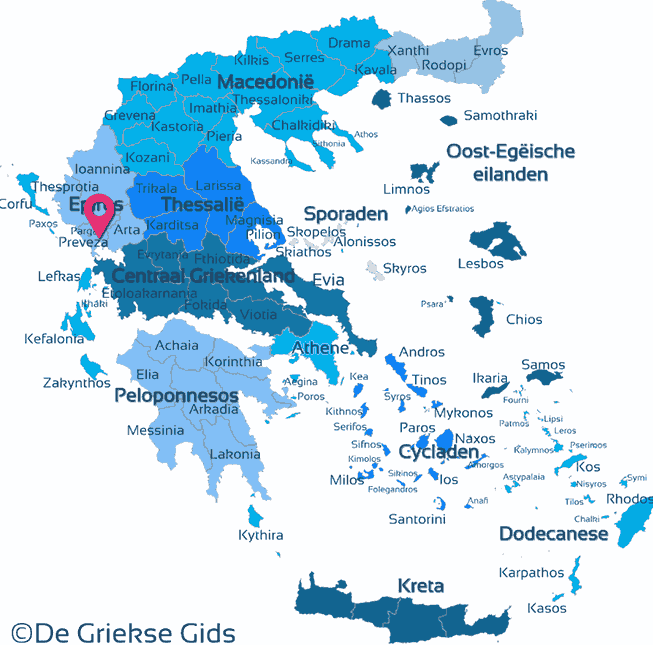 The map of Preveza - ©GreeceGuide.co.uk