Karditsa - Thessaly (Greece)
Karditsa. Karditsa is one of the four prefectures of the geographical region of Thessaly. It is located in the southwest edge of the Thessaly plain, bordered in the north by the Trikala prefecture, to the east by the prefectures of Larissa and Fthiotida, south by the prefectures of Aetoloakarnania, Evrytania, Fthiotida and on the west by prefecture Arta. A part of Karditsa is covered with high mountains and mountain ranges, the flat plain of Karditsa is located on the northeast. Among the mountain ranges are narrow valleys. In these valleys flow some small rivers that join the larger Acheloos river. In this area the artificial lake of Tavropos is located at 1000 meters (3,280 feet) altitude.
The prefecture of Karditsa is an agricultural area with many meadows, forests and lakes. The most important crops are wheat, cereals, legumes, cotton and vines. Animal husbandry thrives in Karditsa mainly where cattle, goats, pigs and horses are bred. In the prefecture of Karditsa there is a spa named Smokovo. Capital of the prefecture is Karditsa town, remarkable towns are also Mouzaki, Sofades and Palamas.
Photo Gallery Thessaly - Photos of Thessaly

Sights and tips Karditsa
Mouzaki: Mouzaki is a village which is also the commercial center of the mountainous region of Argithea.
Mavrommati is the village where the Greek hero Georgios Karaiskakis came from. You can visit the cave where he was born in 1782.
Tavropos: A picturesque area with a scenic 40 kilometer (25 mile) hiking trail. You can walk around the lake and enjoy the beautiful green landscapes.
In Fanari is a Byzantine fortress from the 13th century. This is the best preserved fortress of west Thessaly and is built on top of a hill.
In the village Kanalia visit the anthropological museum that is housed in an old traditional house.
Episkopi, the ruins of the ancient Gomfoi, one of the three major cities that oversaw the passage through the plain.
The monastery of Agia Triada in Drakotrypa (near Mouzaki), where Christians hid during the Turkish occupation.
The Nikolas Plastiras lake: This is the jewel of the area as well as one of the most beautiful places in Greece.
Text: Jorgos and Wendy Nikolidakis - Text edited by Katrina Butzer
Weather forecast Karditsa
Friday

20°C
Saturday

20°C
Sunday

20°C
Monday

13°C
Tuesday

13°C
Wednesday

14°C
Average temperature Karditsa
Karditsa in other languages


Karditsa: Where on the map is Karditsa located?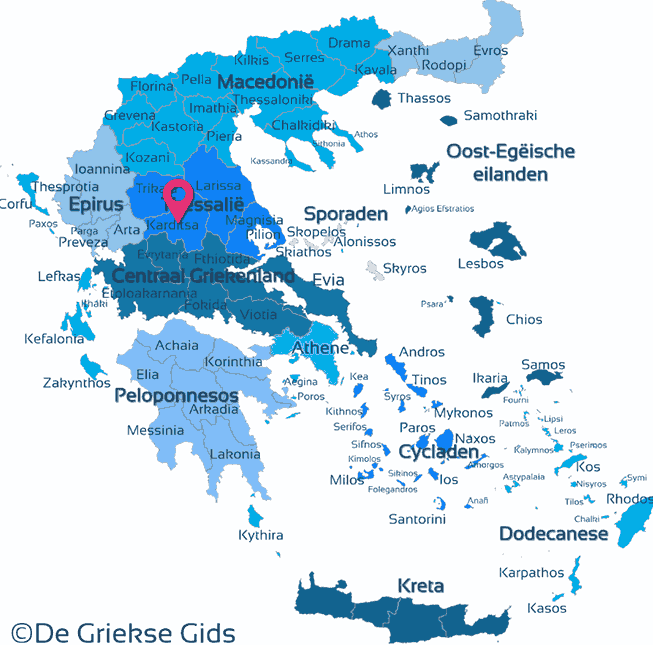 The map of Karditsa - ©GreeceGuide.co.uk