Arta - Epirus (Greece)
ARTA. Prefecture of Arta is the southeastern prefecture of the Greek region Epirus (1665 sq.km, 80 000 inhabitants). It is bordered to the north with the prefecture of Ioannina, in the west with the Prefecture of Preveza, in the east with the region of Thessaly (Prefectures Trikala and Karditsa) and in the southeast with prefecture Aetoloakarnania, one of the prefectures of central Greece.
In the southwest it borders to the bay of Amvrakikos, this area is one of the most important habitats of Europe, protected by the Ramsar Convention (The Ramsar Convention protects wetlands and associated plant and animal species).
Prefecture of Arta is full of beautiful mountains and fertile valleys and plains. Capital of the prefecture is the town of Arta, which is built on seven hills on the banks of the river Arachtos.
Arta city has a storied town that is known for its famous bridge. It is a bustling town with lots of entertainment options. Arta city located 370 kilometres from Athens and can be reached fastest via the Rio-Antirio Bridge and the Peloponnese.
Photo Gallery Epirus - Photos of Epirus

History of Arta
Arta was in the 7th century BC founded by Corinthians. At that time the region was called Amvrakia. The name 'Arta', waas obtained during the Byzantine era. During the Turkish occupation from 1449 to 1881, Arta was an important trading center. Arta is known for its historic bridge; According to a legend, the bridge was built in the daytime and at night it collapsed again and again. It was thought that a curse ruled over, they believed they had to sacrifice somebody otherwise the bridge never would be finished. The first technician finally sacrificed his beloved to finish the bridge. Although Arta has a long history, there is little left from ancient times. The main monument from this period is the ancient theatre of Amvrakia. Unlike in ancient times, there is very much more preserved from the Byzantine period, there are many historic churches that can be admired today.

Sights and tips Arta
The castle of the town of Arta, which was built in the 13th century next to the river Arachtos. The castle is located in the middle of a green forest. The castle houses the Municipal Theatre which are given in the summer performances.
The Byzantine church Parigoritissa which was built in the period 1285-1289. This church has two floors. The murals of this church are from the 16th and 18th centuries.
The ancient theater of Amvrakia in Arta city.
The traditional village Kataraktis.
Monday

23°C
Tuesday

20°C
Wednesday

20°C
Thursday

21°C
Friday

23°C
Saturday

25°C
Photos Arta - Arta pictures
Arta in other languages


Arta: Where on the map is Arta located?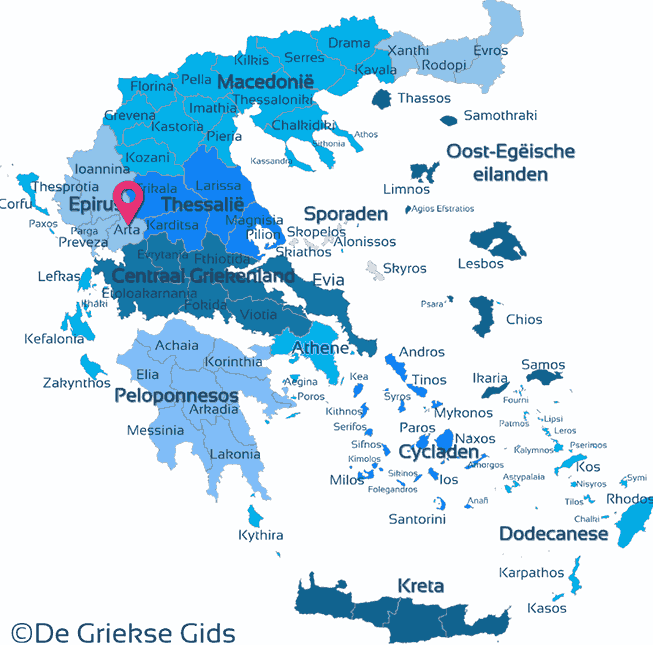 The map of Arta - ©GreeceGuide.co.uk