Sikinos - Cyclades (Greece)
Sikinos. Sikinos is a Greek island n the the Aegean Sea. It is very suitable for a quiet vacation, and for people who search peace and an authentic atmosphere. The island covers an area of 40 square kilometer (15 mi2). The coastline is 41 kilometers (25 mi) long and 280 residents live on the island. This island is rather dry. It has been inhabited since the Cycladic period. Sikinos is located between the islands of Ios and Folegandros.
The only road on the island runs from the small port of Alopronia to the capital Chora (Sikinos). In the square of the village you will find white houses and five churches. Narrow donkey paths lead from here to the monastery Zoodochos Pigi and to an old fort. A nice goal for a walk is the monument Episkopi in the southwest where a temple of Apollo once stood.
Chora (or Kastro) is the center of the island. Here you can see impressive mansions, but also the Pantanassa church with a beautiful templon and remarkable icons. The church was founded in 1787. There are also picturesque windmills.
Events that take place on Sikinos are: Assumption of Mary on August 15th. And Mary as the "Source of Life" is celebrated a few days after Orthodox Easter. In this celebration, the icon with the image of Mary is carried around during a procession. In the afternoon there is a church liturgy and the day ends with feast and dance, food and music.

Photo Gallery Sikinos - Photos of Cyclades
Saturday

26°C
Sunday

25°C
Monday

25°C
Tuesday

25°C
Wednesday

27°C
Thursday

28°C
Average temperature Sikinos
Photos Sikinos - Sikinos pictures
Sikinos in other languages


Sikinos: Where on the map is Sikinos located?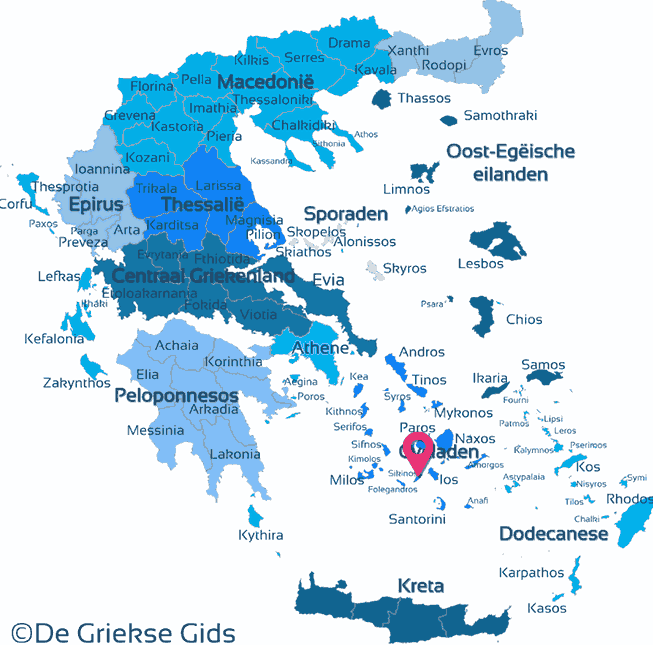 The map of Sikinos - ©GreeceGuide.co.uk