Salamina - Saronic Gulf Islands (Greece)
Salamis (Salamina). Salamis is one of the Saronic islands. Salamina is located in a small bay opposite Pireaus, Elefsina, Megara and less than one mile from Perama. It is 95 km2 and the coastal length is 104 kilometers. The capital city of Salamis Salamis is also called Koulouri. Of all the Saronic Gulf islands (Salamina, Aegina, Poros, Hydra and Spetses) this is for many people from Athens the summer favourite because it is a short distance from the capital. Although in recent years the environment has changed due to heavy industry in the region and the natural beauty of the area has been affected. Salamina is the birthplace of the tragic poet Euripides and has marked its place in history with a famous battle in 480 v. (Greeks against the Persians). In Salamina, you can visit the Agora, and the ruins of the temple of Aias (Ajax). Also, you can find Byzantine influences in the convent of the Virgin Faneromeni and the beautiful frescoes in the church. The beautiful sandy beaches of Moulki, Kanakia and Peristeria will attract many people.
Photo Gallery Saronic Gulf Islands - Photos of Saronic Gulf Islands

more photos of Saronic Gulf Islands»


Attractions / beaches / hiking at Salamis
The ethnological museum and the library (the new town)
The mills (18th century) on the mountain Milon
The Cave of Euripides
The Euripides theatre that hosts the Salamina festival in summer
The ruins of the historical city Koulouris (4th century BC) at Ambelakia
The Archaeological Museum.
The house of the poet Aggelos Sikelianos.
The monastery of Panagia Faneromeni (6 kilometers west of Salamis City).
The Monastery of Agios Nikolaos (18th century)
The beaches on the southern part of the island (Peristeria, Kaki Viglia)
The beaches Moulki, Iliakti, Kolones and Kanakia.
On the west coast, 6 km from Salamis Town is Moulki (The temple in honour of Ajax .According to legend, in the village Kolones, the "city" of Ajax Telamon stood. Ajax was a Greek hero of the Trojan war.
Weather forecast Salamina
Friday

22°C
Saturday

23°C
Sunday

22°C
Monday

20°C
Tuesday

18°C
Wednesday

19°C
Average temperature Salamina
How is Salamis accessible?
Salamis is accessible via ferryboat. There are daily connections to Piraeus and especially to Perama (hamlet of Piraeus). (Smaller) ports Kaki Vigla, Peristeria, Ambelakia, Paloukia, Faneromeni and Selinia.
Text: Yorgos and Wendy Nikolidakis - Edited by Maxine van Hoften Gee
Photos Salamina - Salamina pictures
Salamina in other languages


Salamina: Where on the map is Salamina located?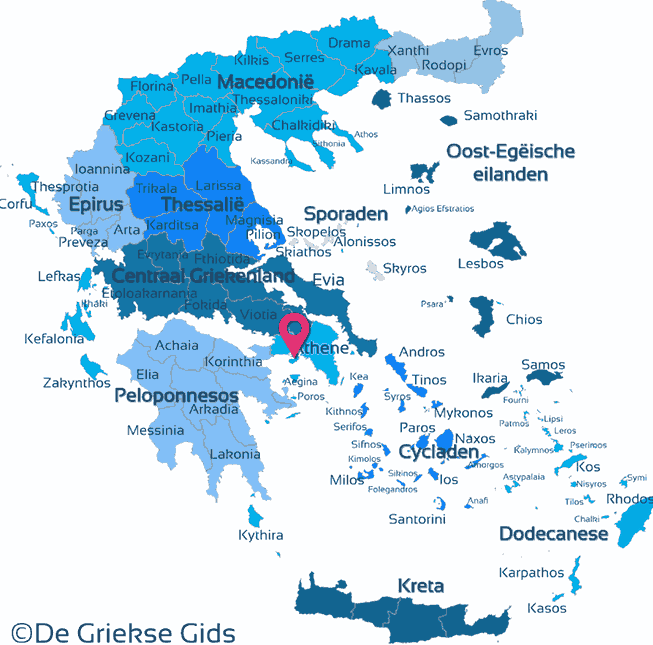 The map of Salamina - ©GreeceGuide.co.uk