Patmos - Dodecanese (Greece)
Patmos. Patmos is the northernmost island of the archipelago Dodecanese. The name Dodecanese means "twelve islands."
Patmos, situated between Leros and Ikaria, is a hilly volcanic island with its highest peak being Profitis Ilias at 270 meters (885 ft). The island boasts many bays and the middle portion of the island is very narrow. The width here is less than 2 kilometers (a little over a mile).
There are approximately 3,000 people living here. The inhabitants of Patmos engage in agriculture, pottery and fishing.
Patmos is known as the Jerusalem of the Aegean Sea, for here the apostle John spent eighteen months in a cave at 95 AD, according to tradition he was inspired to write the Book of Revelation, the last book of the New Testament.
Later, in 1088 during the reign of Byzantine Emperor Alexios the 1st, a monastery was founded by the monk Christodoulos in honor of the apostle. Visitors are allowed to walk around the courtyard and through the hallways. The monastery has a wealth of Byzantine artifacts, including icons, carvings of gold, silver and gemstones. On the second floor there is a library with lots of manuscripts, old books and charters. The Monastery is situated 3 kilometers (less than 2 mi) from Skala, the port of the island. Skala has a friendly atmosphere, and charming taverns, hotels and shops.
Photo Gallery Patmos - Photos of Dodecanese
How to get to Patmos?
There is no airport on Patmos. The closest airport is located on the Island of Leros.
Patmos is connected by ferry with the ports of Piraeus (Athens), Agathonisi, Kalymnos, Kos, Leros, Lipsi, Rhodes, Samos, Symi and Syros.
Text: Jorgos and Wendy Nikolidakis - Text edited by Katrina Butzer
Friday

21°C
Saturday

22°C
Sunday

21°C
Monday

20°C
Tuesday

19°C
Wednesday

19°C
Average temperature Patmos
Photos Patmos - Patmos pictures
Patmos in other languages


Patmos: Where on the map is Patmos located?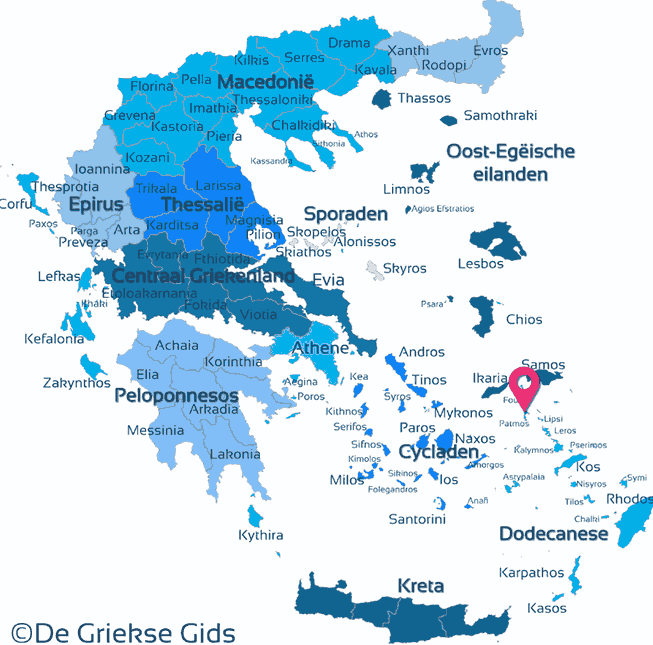 The map of Patmos - ©GreeceGuide.co.uk