Kasos - Dodecanese (Greece)
Kasos. Kasos (Kassos) is the southernmost island of the Dodecanese. It is situated between Karpathos and Crete. It is a barren mountainous island with a steep rocky coastline and some beaches. Beaches are located in Fry, Emborios and Ammouda.
The capital of the island, Fry, is built on picturesque Bouka Bay. Fry is the main port of Kasos. The attraction you must visit on Kasos is the Cave of Sellai, 30 meters (nearly 100 feet) deep and 8 meters (26 feet) wide with impressive stalactites.
The first residents of Kasos seem to have been the Phoenicians. Homer reports that in his catalogue of the Greek cities that took part in the Trojan War. In the 18th century, Kasos had its own merchant fleet and became a prosperous island through trade. When its imposing fleet took part in the 1821 Greek War of Independence, the Turks took revenge. They destroyed the island and massacred its inhabitants in June, 1824. Only a small number of people survived that tragedy.
Photo Gallery Kasos - Photos of Dodecanese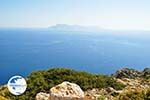 Sights Kasos (Kasos)
Fry - the capital and only port of Kasos. Fry is a village built in 1840 by residents of Agia Marina.
Agia Marina - a beautiful village with traditional houses. It is the island's largest village.
The caves of Ellinokamara and Selai, not far from Agia Marina.
Emporios - the ancient port of Kasos.
Poli - the old capital of Kasos. Located 2 kilometers (a little more than a mile) from Fry and built on top of a hill. The view is magnificent.
The islet Armathia, 3 kilometers (2 miles) from Fry. This islet has two beautiful beaches.
The wind turbines in the town Dikefalos.
How to get to Kasos?
Kasos is connected by ferry with the harbors of Piraeus (Athens), Anafi, Halki, Heraklion (Crete), Karpathos, Milos, Rhodes, Santorini and Sitia (eastern Crete).
Text: Jorgos and Wendy Nikolidakis - Text edited by Katrina Butzer
Friday

22°C
Saturday

22°C
Sunday

22°C
Monday

21°C
Tuesday

21°C
Wednesday

21°C
Average temperature Kasos
Photos Kasos - Kasos pictures
Kasos in other languages


Kasos: Where on the map is Kasos located?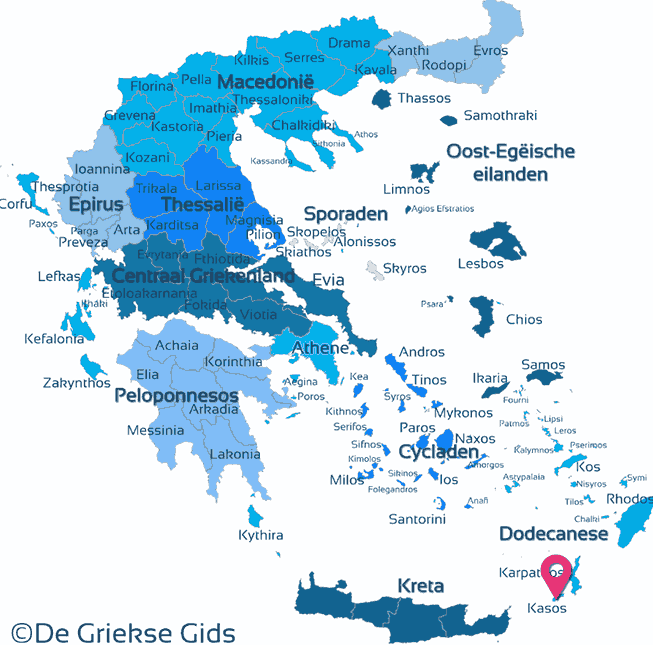 The map of Kasos - ©GreeceGuide.co.uk