Fourni - North-Eastern Aegean Islands (Greece)
Fourni. The Fourni islands are located near the southeast coast of Ikaria (between Ikaria and Samos) and are surrounded by a stunning coastline. Fourni is an islandgroup of 21 small islands or islets, of which only the biggest one Fourni, and Thymena are inhabited. You can use small boats to sail to the various islands.
The largest island is also called Fourni (30 sq.km.), that's also the name of the capital of the islands. There is a cosy harbour, quite a number of beautiful beaches, some accommodations to stay in and many fantastic tavernas, this is what you can expect from Fourni. It is small fishing village with about 1200 inhabitants (mostly fishermen) living here.
It's good to walk to the port and see sailors relaxing. They sail only when they have enough passengers! There are no fixed times, when it is too windy, then, they do not go either!
There are not many cars on the island, there is only one taxi. Fourni is the ideal holiday destination for people who love peace and nature.
Thymena, the second largest island of the island group covers an area of 10 sq.km. On this island live 150 residents, most of them are all fishermen too.
In the summer 2015, near the islands of Fourni, 22 old shipwrecks were found at the bottom of the sea by Greek-American underwater archaeologists .Most of these shipwrecks are dating from the Late Roman Period till the Middle Ages.
The shipments prove that there were long distance trades between the Black Sea, Aegean Sea, Egypt and other countries in all of those periods. Three ships carried a cargo of amphoras that have never been previously found on shipwrecks.
Photo Gallery Fourni - Photos of North-Eastern Aegean Islands
How to get on Fourni?
Fourni is connected with the harbours of Ikaria and Samos by ferry where airports are also located but also with Patmos, Lipsi, Leros, Kalymnos and Kos.

Text: Yorgos and Wendy Nikolidakis - Text edited by Maxine van Hoften
Friday

22°C
Saturday

22°C
Sunday

21°C
Monday

19°C
Tuesday

18°C
Wednesday

18°C
Average temperature Fourni
Fourni in other languages


Fourni: Where on the map is Fourni located?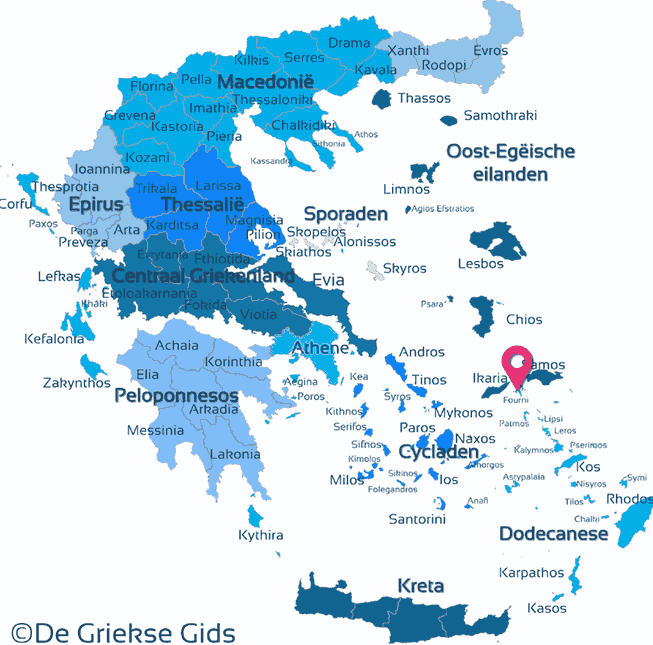 The map of Fourni - ©GreeceGuide.co.uk